Masking is an efficient method of facial skin rejuvenation. It helps in cleansing the skin much more deeply than a normal face washing does. Masking helps washing away oil residues, chemicals from makeup, or dirty substances out of skin's pores more effectively.  Moreover, facial mask treatment gives you a soothing sensation and lets you feel the relaxation that you deserve. Most importantly, masking increases the moisture level of the facial skin and allows vitamins and nutrients to be absorbed much more greatly, giving your skin a desirably brightened skin tone. Facial mask is a treatment that should be done regularly to obtain a soft and pleasant skin texture.  When doing facial mask once or twice a week, one can feel the significant improvement of skin texture and tone.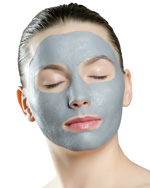 Miracle Mask
This facial mask consists of minerals and skin nutrients which particularly reduce inflammation and increase skin moisture. During the treatment, you will feel comfortable, cool, and relaxed. After the treatment, the skin texture will be softer and look younger and fresher.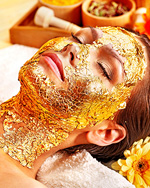 Stem Cell Gold Mask
This facial mask consists of gold powder, stem cells, and several skin nutrients. The mask rejuvenates the skin and makes the skin look brighter after treatment. Treatment can be done as frequent as you like.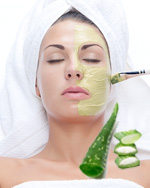 Aloe Vera Mask
With concentrated extract of aloe vera and several skin nutrients, this mask is exceptional at reducing inflammation and irritation subsequent to other treatments while moisturizing the skin effectively. The mask is suitable for sensitive skin as well. Treatment can be done as frequent as you like.